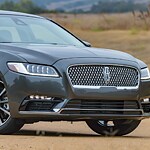 The 2020 Lincoln Continental is worth its weight in gold. This remarkable sedan is large, has plenty of tech advancements and provides a comfortable ride. Up to five people can seat easily in the sedan's cabin, an there is plenty of legroom. Here's a bit more information on the performance side of things.
The 2020 Lincoln Continental is a road beast by all means. This car has exceptional power that's raw. The available Dynamic Torque Vectoring system provides on-demand power to the rear wheels, especially when cornering. Dynamic Torque Vectoring actually enhances the agility of the car for a smoother quality of ride. We can't forget to mention that the available 3.0-liter V6 produces up to 400 horsepower as well as 400 pound-feet of torque. Navigating tough traffic is easy thanks to Stop & Go technology's camera and radar-based system.
Want a test drive? If so, then visit our dealership.