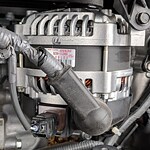 Did you know that your vehicle's alternator is one of its most important components? At Hall Lincoln, we believe that you should know as much as possible about your vehicle. So, here's a quick look at what your vehicle's alternator does and what you should know about it.
Your vehicle's alternator is responsible for charging the battery of your vehicle. The alternator can also supply additional electric power to the vehicle's many electronic systems. It is recommended that you have your vehicle's alternator serviced or replaced every seven years or 100,000 to 150,000 miles.
At Hall Lincoln, we provide top alternator, repair and maintenance service at competitive prices. Our experienced tech team has worked on just about every make and model vehicle. Plus, we have a top selection of OEM parts available. Contact us to schedule an appointment today. We look forward to helping you get the most from your vehicle.